STA Happenings
Meetings
Sauratown Trails Association meets monthly on the third Thursday of the month. We generally have dinner meetings at local restaurants in the North Winston/Rural Hall/King area. Our next meeting is on Thursday Nov. 21st, 7:00 pm, at La Caretta Restaurant on Coliseum Drive in Winston-Salem. This is our annual meeting and we will hold Officer elections.
Workdays
Our next workday to be determined after hunting season.
Our last workday was Oct.14th
This was a joint workday with the Friends of Sauratown Mountains. We worked on the Booth Loop, weed whacking briars and cutting trail tread. We also trimmed rhododendron branches at the end of Section 1 near Mickey Rd. These two sections of trail are now good to use for both hikers and horseback riders.
Workday Sept.9th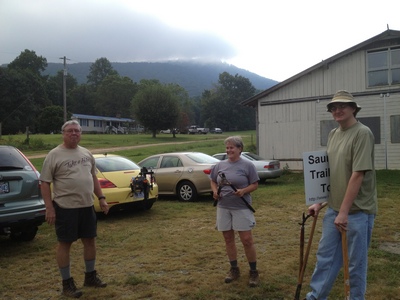 Henry Fansler, Susan Dabbs, and Steve Mierisch meet at Mountain Trail Stables to begin workday.
See more pictures of this workday.
Rides and Events
STA Booth at the Dixie Classic Fair Oct 2013