STA Happenings
Meetings
Sauratown Trails Association meets monthly on the third Thursday of the month. We generally have dinner meetings at local restaurants in the North Winston/Rural Hall/King area.
About our March meeting...
We are postponing our regularly scheduled monthly meeting from March 20th to March 27, 2014 at 7:00 pm, at North Point Grill in north Winston-Salem. Come earlier if you are ordering dinner. We are postponing the meeting in order to attend the Master Trail Plan meeting in Elkin on March 20th. This is regarding proposed trails from Stone Mountain to Pilot Mountain. Here is some information in case anyone is interested in attending.

View Larger Map Get directions to the North Point Grill
Workdays
STA will have regular workdays on the first Saturday of each month.
The previously scheduled workday for
March 9th
has been re-scheduled for
March 16th
. There will also be a workday on
Monday, March 17th
, for those who can make it during the week.
For both days, we will meet at the Brim's Grove Parking Lot starting at 9 AM. Please let
Steven Mierisch
know if you plan to attend.
Contact
Steven Mierisch
for the time and place to meet if it is not posted here.
Workday Sept.9th 2013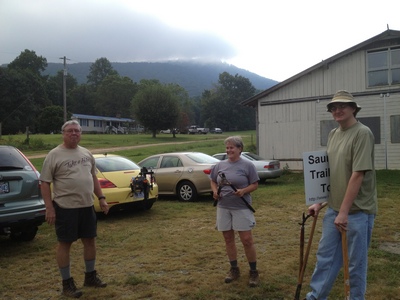 Henry Fansler, Susan Dabbs, and Steve Mierisch meet at Mountain Trail Stables to begin workday.
See more pictures of this workday.
Rides and Events
STA Booth at the Dixie Classic Fair Oct 2013