STA Happenings
Announcements:
Ultra-Marathon Run Oct.11th 2014
Trivium Racing will host a 50K / 50 mile ultra-marathon run on the Sauratown Trail Oct.11th 2014. There will be 3 starting points for the 125 runners starting at around 7:30 am.
- South end of the Corridor trail (Yadkin River Park Trail)
- Surry Line Parking Lot
- Old Winston/Coon Rd Parking Lot
Horseback riders should try to avoid these areas until congestion clears around 10:30. Runners will be headed up towards Hanging Rock and finish the run at the Dan River Green Heron Club.
Meetings
Sauratown Trails Association meets monthly on the third Thursday of the month. We generally have dinner meetings at local restaurants in the North Winston/Rural Hall/King area.
Our next meeting...
Our next regularly scheduled monthly meeting is Thursday, Oct. 16th at 7:00 pm. at the North Point Grill. Come earlier if you want to order dinner.

View Larger Map Get directions to the North Point Grill
Workdays
STA has regular workdays on the first Saturday and the 3rd Monday of each month.
Thursday, Oct. 4th
We will be working on the re-route of Section 7. We will meet at the intersection of Rockhouse Rd. and Thore Rd. starting at 9:00 am. We need digging tools and high branch loppers.

Monday, Oct. 20th. TBA

The Clip and Ride originally planned for Sept 20th has been postponed until after hunting season.

Contact Steven Mierisch for the time and place to meet if it is not posted here.


Pictures from our workday July 21st, 2014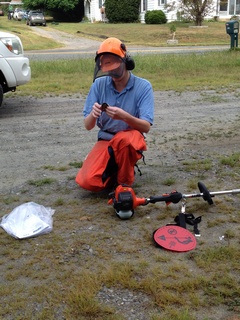 Steven and Jeff getting our new weed eater ready to use on Section 14.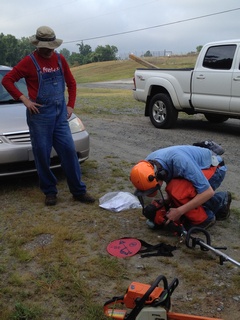 New STA member Marlo Mabe helped a lot on this workday!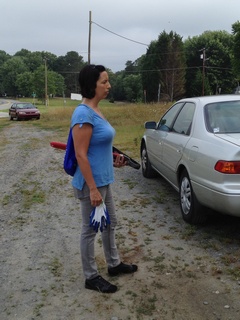 Workday May 19th 2014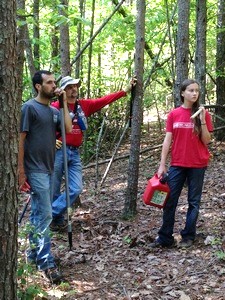 Trail workers Rich Swor, Jeff Beckelhimer, and Helena George contemplate where to work next on the James Booth Loop.
Rides and Events
Saturday, Oct. 11th Ultra-marathon on the Sauratown Trail.

Saturday, Oct 18th - Horne Creek Corn Shucking at HOrne Creek Farm in Pinnacle, NC.