STA Happenings
Meetings
Sauratown Trails Association meets monthly on the third Thursday of the month. We generally have dinner meetings at local restaurants in the North Winston/Rural Hall/King area.
About our April meeting...
Our next regularly scheduled monthly meeting is April 17th at 7:00 pm, at North Point Grill in north Winston-Salem. Come earlier if you are ordering dinner.

View Larger Map Get directions to the North Point Grill
Workdays
STA will have regular workdays on the first Saturday of each month.
Sunday, March 30th, 9:00 am.

Next workday is Sunday, March 30th. We will meet at Brim's Grove parking lot at 9:00 am. The plan is to work at the east end of Section 13 in the morning, digging and cutting back briars. We'll go back the the Brim's Grove lot for lunch. Lunch will be provided to those who RSVP. After lunch, we'll move to Old Mill Road to work on small digging projects on section 11.



Monday, April 7th, 9:00 am.



Place to meet to be determined.


Contact Steven Mierisch for the time and place to meet if it is not posted here.

Meetings - April 10th
On Thursday, April 10, from 4:00 PM to 6:00 PM, a public meeting will be held to discuss the future of the Sauratown and Mountain-to-Sea Trails in Stokes County. This is part of the planning process for the broader Stokes County 2035 Comprehensive Plan. I hope you will join us at this meeting to share ideas and feedback on the future of these trails.
Location:
Stokes County Admin Bldg, 3rd Floor Conference Rm
1014 Main Street
Danbury, NC 27016

More info and RSVP
Workday Sept.9th 2013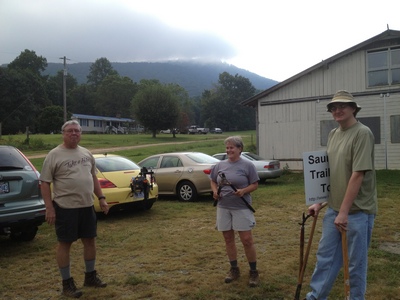 Henry Fansler, Susan Dabbs, and Steve Mierisch meet at Mountain Trail Stables to begin workday.
See more pictures of this workday.
Rides and Events
STA Booth at the Dixie Classic Fair Oct 2013