STA Happenings
Meetings
Sauratown Trails Association meets monthly on the third Thursday of the month. We generally have dinner meetings at local restaurants in the North Winston/Rural Hall/King area.
Our next meeting...
Our next regularly scheduled monthly meeting is August 21st at 6:00 pm, at the home of STA member, Emily Grogan. This is a pot luck so bring a dish to share.

View Larger Map Get directions to the North Point Grill
Workdays
STA has regular workdays on the first Saturday and the 3rd Monday of each month.
Saturday, Aug. 2nd. We plan to work on re-routing Section 7 and will meet at the Taylor Rd. parking lot at 8:00 am.

Monday, Aug. 18th. Again, we will be working on Section 7. We will meet at 8:30 am at the Taylor Rd Parking lot.


Contact Steven Mierisch for the time and place to meet if it is not posted here.


Pictures from our workday July 21st, 2014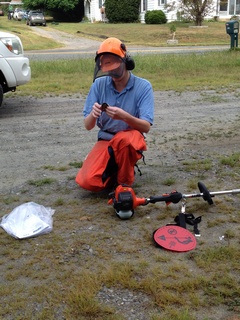 Steven and Jeff getting our new weed eater ready to use on Section 14.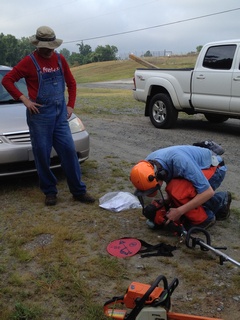 New STA member Marlo Mabe helped a lot on this workday!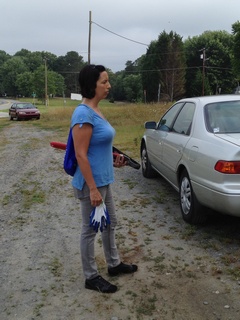 Workday May 19th 2014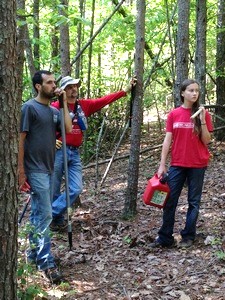 Trail workers Rich Swor, Jeff Beckelhimer, and Helena George contemplate where to work next on the James Booth Loop.
Workday Sept.9th 2013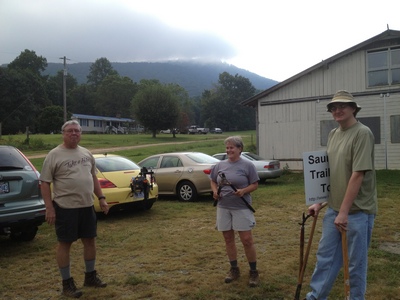 Henry Fansler, Susan Dabbs, and Steve Mierisch meet at Mountain Trail Stables to begin workday.
See more pictures of this workday.
Rides and Events
STA Booth at the Dixie Classic Fair Oct 2013